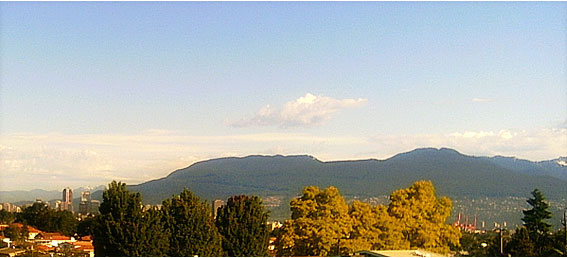 All About Famous In ajmer
Pushkar
Flaunting its enchanting lake, numerous bathing ghats and splendid temples, Pushkar is an inimitable town of Rajasthan and a highly venerated pilgrim place. It is located in the northwestern part from ajmer and forms a fascinating venue for the globally renowned Pushkar Fair. Hordes of pilgrims drop in to this holy place beguiled by its unusual character and captivating appeal. Some of the important things to watch in Pushkar include the Brahma Temple, Pushkar Lake, Savitri Temple and Warah Temple. The level of excitement reaches its pinnacle during the famous Pushkar Fair which reflects the rich culture and customs of Rajasthan. In order to make your tour to Pushkar even more fun-filled and exciting, a fair knowledge about Pushkar will certainly prove to be beneficial.
There are several mythological events that are associated with the history of Pushkar. According to these, the demon Vajra Nabh was killed by Lord Brahma with a lotus flower in a duel and during the fight, three petals of that flower fell in three distinct places thus creating lakes. According to recorded history, Pushkar had an advantageous location and was ransacked by Mahmud of Ghazni during one of his campaigns in India and afterwards became one of the most sought-after retreats of the Mughals. Later, owing to the gradual decline of the Mughals, the Scindias took over the control of this place. Later it was annexed by the British and was one of the few regions of Rajasthan to have been controlled by them and was under their rule till Indian independence.
Best Season, Climate and Clothing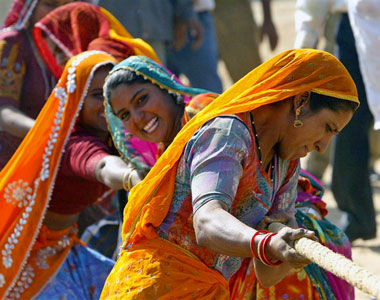 The climate of Pushkar
is marked by hot, arid summers and harsh winters. During the summers, the mercury may touch as high as 45 degree Celsius and during the winters it temperature may drop below zero. For the summer, light woolens would suffice and for the winter, heavy woolens are recommended. The best time to visit is between October to March.
These helpful inputs about Pushkar, are certainly going to make your sojourn a rewarding experience.
Touristplacesinindia.com is a reliable travel guide on Pushkar and provides valuable information on the hotels and tourist attractions in Pushkar.
Pushkar is a fantastic interplay of history and mythology that makes it worthwhile to travel to this holy destination of Rajasthan.
According to lore, the city of Pushkar came into being After a battle between Lord Brahma and a demon named Vajra Nabh. After the demon was killed by Brahma with the help of a lotus flower, three petals floated down to Earth and landed in Pushkar leading to the creation of the three lakes of Pushkar.
Recorded history shoes that Pushkar was a favorite retreat of the Mughal rulers, which was later taken over by the Scindias after the eventual decline of the Mughal rule. The Scindias handed over the city to the British thus making Pushkar one of the few places in Rajasthan to be under direct British control, until Independence.
Pushker Fair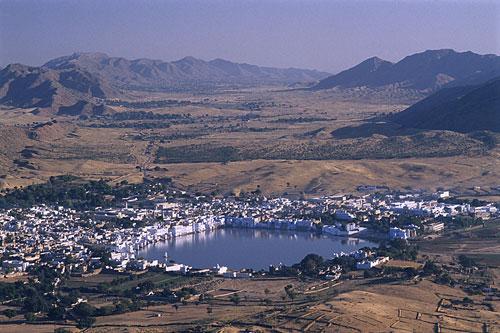 Pushkar Fair is the world's
largest camel fair held in the holy town of Pushkar in Rajasthan. A spotlight of one's holiday in India, the Camel festival hosts around 50,000 camels in this magnificent event which are sold, decorated, shaved and raced. From a mere 14,000 to a massive 200,000! This is how the population of Pushkar swells during the Pushkar Camel Fair.
Pushkar Camel Fair is an occasion for villagers from far and near to gather together and enjoys a welcome break from their harsh life of the arid desert. The village women dress in their best colorful clothes and finery for this five-day Camel festival. It is an occasion for Hindu pilgrims to converge for a holy dip in the sacred Pushkar Lake to "wash away the sins of a lifetime" and pay obeisance at the only Brahma temple in the world. Read more about Pushkar Camel Fair.
Pushkar Cattle Fair Tour
The Cattle Fair of Pushkar
is the spotlight of an Indian holiday. It's during this period that the population of 14,000 swells to over 200,000 while the festival hosts over 50,000 camles which are sold, raced and decorated. You can observe devotees taking a holy dip in the Pushkar Lake and seeking blessings at the only Brahma Temple.
Pushkar Camel Fair Tour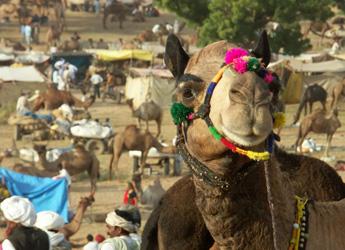 The annual Pushkar Camel Fair
is an experience that will make for a magical sojourn to Rajasthan. A tented city is created adjacent to Pushkar Lake during the full moon days for this fair and it is here that thousands of men and women cover the sand dunes and indulge in festivities, trade in livestock, handicrafts, participate in camel races, dances, drama, and music competitions.
Best Selling Tour of The Year: We have designed a tour program that is reaching every corner of Rajasthan and will be presenting you Rajasthan at its best. We have named this tour Rajasthan at its Best! It will be giving you a chance to see the Taj Mahal as well. Rajasthan at Its Best will show you the desert of Jaisalmer, lakes of Udaipur, forts of Jodhpur, Palaces of Jaipur with the Indian Hospitality in Village Hudeel .
Sohan Halwa
A Famous Sweet Dish of ajmer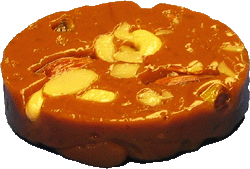 Native Rajasthanis have a unique style of coupling the sweet dishes with the main (bread/roti/puri) course instead of or in addition to vegetables or meat. Halwa Puri for example makes a famous combination.
Here again we find a great use of pulses, legumes, diary products etc and a unique style of rustling up the desserts. A great use of clarified butter (ghee) characterizes the sweets.
These are over cooked and often chashni (caramel) based. Halwas and Chakkis are a must on most festive occasion. A variety of dal ka halwas are made using lentils such as Moong Dal ka Halwa, made of green gram (split) or semoina (Sooji ka Halwa).
Some Famous Sohan Halwa (Corn Starch Halva) Recipe, a famous sweet dish of ajmer, Rajasthan
Bramha Tample
0145-2772050
New Rangji Tample
0145-2772024
Old Rangji Tample
0145-2772421