All About Famous In bikaner
Camel Festival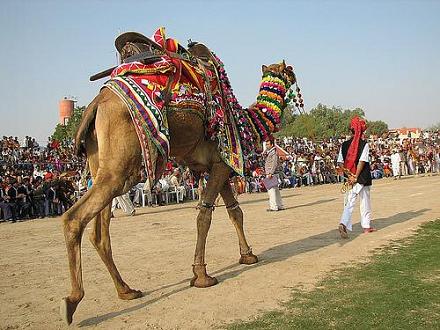 The Camel Festival is
an event organized in bikaner by the Department of Tourism, Art and Culture, Government of Rajasthan, every year in the month of January. Desert region's Folk dances and Music, add on to what is otherwise an exclusive camel affair. A festival when the ships of the desert are seen at their best. Camels fascinate tourists from all over the world with their movements, charm and grace. A spectacle of unusual camel performances, camel races, camel dances, and the bumpy, neck shaking camel rides.
Gangaur Festival
This festival is celebrated in month
on march and april . This festival of maidens and married women. Women attired in their best costumes and jewelers , pray to Gauri , an incarnation of Goddess Parvati. This eighteen day long festival begins the day after holi. Married women pray for the well being and long life of their husband and the young ladies seek the blessings for a life partner of their choice. Processions of Gauri , are taken out with pomp and gaiety from Junagarh and the old city. Women sing melodious folk songs, accompanied by musicians and bands.
Kite Festival
It's also called Akkha Teej
and its celebrated on akshya tritya . Kite Flying is a cultural tradition of this region bearing special significance because of its direct connection with the foundation of this city. It serves to commemorate this historical fact and shows gaiety and involvement of people. Despite sand-storms and slightly hot climate people celebrate the festival with traditional flavour. Sky remains full of KITES of varying colours, shapes and sizes. People of all ages participate with zeal and vigour in this fest. It generally falls in April/May ,date relying on Hindu calendar.
Kolayat Fair
Kolyat Fair is held in the Kartik
month of the Hindu calender year in bikaner. The Kolyat lake and a temple, both at a distance of eight km from the main city of bikaner, are the places where the fair is organized every year. People from far and near places come to the Kolyat lake to take a dip on the full moon day. Apart from tourists of Indian origin, visitors from other countries also frequent bikaner specially during the festive months. The temple of Kolyatji is regarded as one of the holiest of Hindu pilgrimage sites in Rajasthan. The historic past of the Kolyat shrine speaks of the arrival of the ancient sage Kapil Muni who meditated in the place. Ever since the sacred tapasya or meditation of Kapil Muni, Kolyat became a pious site of bikaner where thousands of pilgrims gather every year during the fair. From the streets to the people, the spirit of enthusiasm can be seen in every corner of bikaner during the Kolyat fair. On reaching the Kolyat temple, the local inhabitants of bikaner offer their prayers to the feet of the presiding deity and seek its blessings. It is said that taking a bath in the Kolyat lake makes the soul of the people free from all kinds of sin. Being a city of infinite celebrations, bikaner is visited by huge number of tourists. Known as one of the places where religion and culture have a fine blend, bikaner attracts the attention of people belonging to diverse faiths and religions. Among the various bikaner fairs and festivals Kolyat is a significant one. The sacred lake of Kolayat 55 Km from bikaner is the venue of this fair .Its held during the full moon of kartik (Nov). The devotees come to take a holy dip in the lake. At this time ,all the fifty ghats bordering the lake are crowded. In addition to the worship of saint Kapil Muni , the propounder of Sankhya, one of the six major philosophical schools, thousands of people also visit the cattle fair held here at this time.
Holi Festival
This Festival celebrated in month
of march . Exuberant festivals beginning several days before the actual day of Holi, make it a special and spectacular occasion.
Sky Bird Water Park
This Water park away from city 10 km
in Nal villages near Jaisalmer national high way road . Sky Bird Water Park is only one of the best water park for picnic in bikaner. Many guys goes here for picnic and make sunday more beautiful. You can arrange Your party here . Here is beautiful garden and for dancing DJ Sound also available here So If You want your picnic , holiday , party etc. more better then go here .
In bikaner Most Famous is
Paped and Bhujia . Here are many diff. category of papeds are available which is famous in all our world.
Milan Papad
Panchsheel Papad
Pragati Papad
Rachna Papad
The Famous Shops in bikaner for Bhujia , Paped and Rasgulla are :
Bhikharam Chandmal Bhujiawala , Kotegate , bikaner .
bikaner Bhujia Bhandar , bikaner .
Agarwal Misthan Bhandar , bikaner .
Lalji Rusgule , Near Fort School bikaner .
Delicious bikaneri Rasgulla world famous Rasgulla of bikaner in food-grade ... Manufacturer & exporter of bhujia namkeen sweets, aharbats, rasgullas
F-88-89, Bichwal Indl. Area, bikaner - 334006, Rajasthan, India
Phone : 91-151-2225232
Mobile : +919928015139
Fax : 91-151-2250056
Karni Mata Temple Deshnok
The Karni Mata Temple is
an important Jain pilgrimage site. It is a beautiful temple made of marble with solid silver doors. However, it is not the architecture of this temple that attracts non-Jain tourists , it is the thousands of rats that inhabit it. There are special holes and tunnels around the temple to facilitate the rats movements as well as a wire screen over the courtyard to protect them from birds of prey. Jain pilgrims are anointed with ash while the scurrying critters run over their feet. This is considered very auspicious as is spotting a rare white rat. Bowls of milk and water are strategically placed throughout the temple and pilgrims feed the rats balls of sugar. You may be asking, "Why all the fuss about rats?" Well, these Jain pilgrims believe that the rats are their ancestors. Legend has it that in the 14th century, Karni Mata, an incarnation of Durga (Shiva The Destroyer's wife's evil side) asked Yama, the god of death to restore the life of her son who had drowned. When he refused, she restored the life and deemed that her ancestors would no longer die, that they would be reincarnated as rats which would then be reincarnated as her family members.