Shopping In jodhpur
One thing which most of the people
do on a holiday trip is to shop. It is something like a must do. Shopping in jodhpur is an exciting and rewarding shopping experience for the visitors. It is the homeplace of many talented and skilled craftsmen. They include textile dyers, metal engravers and die-makers. jodhpur still, probably, has the last of the tailors of the classic 'jodhpur' breeches. While in jodhpur, don't forget to buy the famous jodhpuri Suit. It gives a royal identity to your dressing. jodhpur is regarded as one of the most famous hub for wholesale export operations in India and attracts significant number of European and North American dealers. Shopping attractions of jodhpur include the popular items of jodhpur and the markets where you can buy them.
The shopping in jodhpur is incomplete
without shopping of the famous jodhpuri breeches. Worn with traditional sherwani, it is India's answer to power dressing of the west. jodhpur pants or jodhpuri breeches are baggy-tight horse riding trousers. These breeches are worn while horse riding, hunting, playing polo, in equestrian competitions, in show rings, etc. The rulers of jodhpur were the trendsetters of these riding breeches. These breeches are designed to provide maximum comfort while riding horse or playing polo. The pants are baggy from waist to knee and are skin tight from knee to ankle. These breeches can be worn by ladies also. Nowadays they have translated to ethnic fashion statements and are used as ethnic and traditional wear. It can be worn with hunting shirts, short shirts, jodhpuri coat or Nehru jacket. These custom made breeches worn with jodhpuri suit lend a feeling of elegance and add a touch of royalty. So don't forget to buy the classic jodhpuri breeches on your expeditions of shopping in jodhpur, for even commoners need to feel like royals once in a while. However, the jodhpur suit, with all its elegance, is incomplete without the hand-embroidered mojris or jutis of jodhpur that go with the suit. It can also be worn with other traditional Indian dresses. These jutis can be found in different colours and designs.
jodhpur Footwear
jodhpur footwear is famous throughout India. The catalogue of Indian footwear is incomplete without the mention of Mojris of jodhpur, Rajasthan. Also known as jodhpuri Jutis, this footwear can help give a royal touch to your dresses. It is usually worn with traditional Indian dresses like Sherwanis, Achkans, Kurta-Pyjama, jodhpuri suits, etc. They come in different colors and designs, and are normally hand crafted.
Footwear is the one of the important article on sale in the popular markets of jodhpur. Some of the good markets for buying Jutis are:
Mochi Bazaar in the walled city Jutti Corner on Station Road
Different types of Jutis/Mojris are available in jodhpur. The range is quite wide and fascinating. You can get any pair, from the embroidered Jutis to the beaded ones to the plain ones, as per your choice. A nice embroidered pair of Mojris costs around Rs. 450-500. You can also get simple pairs, without much embroidery, for approximately half that price. So, do remember to buy a nice pair of jodhpur footwear, whenever you get the opportunity to visit jodhpur.
jodhpur Bandhini
Bandhini is an ancient,
resist-dyeing technique, widely used in the state of Rajasthan. It is also known as Tie and dye. Bandhini is used to design decorative patterns created by skilled artists with the help the dyes. The fabric is tied in intricate patterns with the help of nails, beads or grain. This acts as a prevention against seepage of color into the tied areas during dyeing.
jodhpur Antiques
jodhpur is an antique hunter's paradise. The jodhpur antiques include textiles, silver jewellery, pottery, carved ducks, metalwork, marble figures, paintings, antiques, ivory, bed covers, wall hangings, puppets, clothes, especially designed furniture, etc. You can also find old furniture, chests, cabinets, sculptures, doors, windows, carved lintels, old pictures, memorabilia, rare, first-edition books, etc.
Some of the main centers for antique shopping in jodhpur are:
Rajasthan Art Emporium
Rajasthan Arts and Crafts House
Sun City Art Exporters
Most of jodhpur, India Antique shops are located at the foothill of Umaid Bhawan. The prices of the antiques are not too high and more or less fixed. You can also get fake antiques in jodhpur that are quite cheap. The handicraft emporiums in jodhpur are even exporting large quantities of antique items. So, if you looking out for authentic (expensive) or fake (cheap) antiques, jodhpur is the place for you.
The following lines provide information about the main jodhpur, India shopping places and their famous items:
Sojati Gate
The famous items available here are Tie and Dye Sarees.
Station Road
This market is famous for Leather, Embroidered shoes and Utensils.
Tripolia Bazaar
You can shop here for local Handicrafts and Textiles.
Mochi Bazaar
Here you get the famous Lac works like Lac bangles.
Nai Sarak
Buy Tie and Dye dresses, Leather items and Handlooms from this market.
Clock Tower
Apart from the well-known item "spices", this is another place to shop for Handicrafts and Textiles.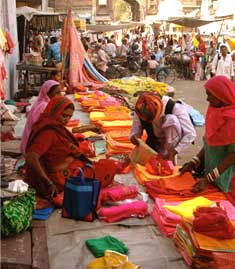 jodhpur shopping destinations will
provide you with an enjoyable and satisfying shopping experience. The numerous bazaars, pavements stalls, handloom houses, etc add color to the otherwise dull city of Rajasthan. Some of the most popular shopping items of jodhpur are:
Bandhini (tie and dye fabric)
Footwear (mainly embroidered jutis)
Utensils
Leather items
Handicrafts
Textiles
Lac works and Bangles
Handlooms
Spices
Antiques