pratapgarh Tourism
pratapgarh is a town in Rajasthan
It's the district headquarters and the newest District of Rajasthan. Famous for its Thewa art, the town is surrounded by tribal villages. pratapgarh District( The Green District) is newly constituted district in Rajasthan State. it came into existence on January 26, 2008 as 33rd district of Rajasthan (added by Vijay). It is second highest place in Rajasthan after Mount Abu. The city is a blend of old and new cultures. In nearby villages, the tribal culture still thrives. Every Sunday when the tribes come to the city to buy merchandise in the weekly haat market, the city also looks tribal. After the declaration as a district, new development plans has been executed in the city by state govt.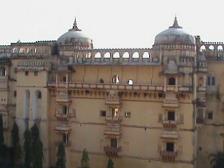 A few spices of pratapgarh like
Jirawan & Hing are famous. These are also imported to foreign countries. The town is connected from almost every important city from road transport but train is still a dream. Due to the height at which it is located, it will be very costly to make a railway line till here. Communication services were earlier relying on BSNL, but after the entry of several private mobile providers like Airtel, Reliance , Vodafone , BSNL , Tata etc. Nearby cities include Chhoti sadri, Mandsaur and Dhariyawad. The forests too are degraded, especially in the area that is not inhabited by the tribal communities. The main river systems of the area are the Jakham and Aeraw that flow to the west and into the Mahi, and the Retam and Siwna that flow east into the Chambal River. The main tourist places are Ganpati-Temple , Shankar Mahadev temple , SITA MATA WILD SANCTUARY , Devgarh Fort etc.