Welcome to www.pinkcity2india.com
Jaipur Heritage City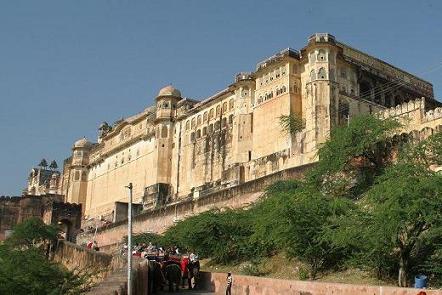 The sovereign of Amber, built Jaipur in the eighteenth century. It was also around that time that the Mughal Emperor Aurangzeb had died and the decline of the Mughal Empire had set in. Jai Singh had started distancing himself from the affair of the Mughal Court and he began concentrating on building of Amber. His search for a safe place for the increasing population of Amber resulted in Jaipur, This was India's first planned city and a brilliant architect Vidyadhar Bhattacharya from Bengal was commissioned to plan the city. He designed it in accordance with ancient Hindu treatise on architecture, the Shilpa Shastra (Vaastu).

Jaipur was planned in a gird system with wide straight avenues, roads, streets and lanes and uniform rows of shops on either side of the main roads, all arranged in nine rectangular city sectors (chokdis). The city is surrounded by a wall having seven gates and was built for protection from invading armies and wild animals that lurked just outside in the jungles that surrounded the city. But Jai Singh's planned city has withstood all the pressures and the changes.


Jaipur needed a fresh coat of paint to welcome its distinguished guest the Prince of Wales in 1905-6. The contractor inability to supply any other color in the required quantity compelled the choice of pink shade for its walls. A contractor's compulsion famed Jaipur to Pinkcity. Since then the PINK color is associated with hospitality in Rajput culture.

Jaipur has a timeless appeal in its colorful bazaars that delights for its Rajasthani handlooms and trinkets. Beautifully laid out gardens and parks, attractive monuments and marvelous heritage hotels, once the residence of Maharajas, are worth admiration, not to mention the ambling camels and cheerful people in multi hued costumes that make Jaipur a tourist's paradise.