Welcome to www.pinkcity2india.com
Walk Inside Pinkcity
Anant Bhagwan Ka Mandir (Nataniyon Ka Rasta)
A temple dating back 250 years. Several old temples with decorated features still exists in the old city. Recently renovated, it showcases the existence of continuous use of traditional materials and building skills.
Sarvajanik Kaun (Public Well) (Open space)
This community well used to be a meeting place of women folk while drawing water. But with advent of piped water supply, the relevance has been reduced. Attempts are on the restore the well & open space it to its former glory.
Sanghi ji - Jain Temple
This temple is famous for its traditional Kundan work on the walls. A very important Digamber Jain temple built in 1731.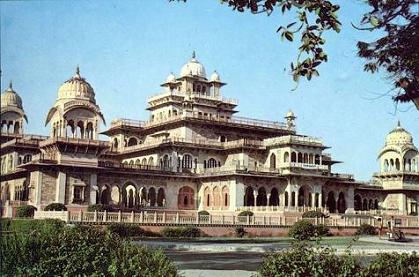 Albert Hall Museum
This museum building was commissioned by Sawai Ram Singh II in 1876 A.D. It is one of the finest & most beautiful examples of Indo-Saracenic style of architecture designed by Sir Samuel Swinton Jacob.
The building was started as a famine relief for the craftsmen of the state.
Andheri Darwaja
This is a dark passage connecting Sanghon Ka Rasta to Kishanpole Bazaar, over which a building exists.
Rajasthan School of Arts
This building was originally built by Pandit Shivdin, the Prime Minister of Maharaja Ram Singh II, as his residence. It was converted into a school of arts in 1866. The school used to train people in all the 36 different crafts skills which were established in Jaipur.

Maharaja Girls School (Natanion Ki Haveli)
This haveli has seven open Aangans / courtyards and is a good example of traditional homes in the wall city. This is one of the largest havelis of the walled city.
Chhoti Chaupar
One of the three large public squares space created at cross section of important streets, serving as a congregational space in time of fairs & festivals. The chaupars also had community water sources, fed by canals.
New Gate
A formidable wall encircled the entire old city and there were seven gates through which one could enter the city. New Gate is the 8th gate or pol which overlooks the Ram Niwas Bagh, which was opened in the middle of the 20th century.

Thatheron Ka Rasta / Nanak Ram Patel Ki Gali
Craftsmen making brass utensils reside and work here. Traditional handtools & implements are still used by these craftsmen.