Welcome to www.pinkcity2india.com
Pinkcity Tourist Places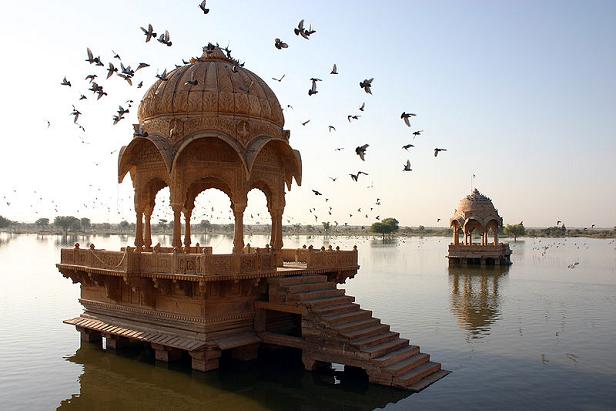 Jaipur Monuments are visited by a large number of tourists every year, both domestic and overseas. Since Jaipur is connected by means of a good network of road, air and rail, the access to the Monuments in Jaipur becomes easy and hassle free. Among these the Jal Mahal Palace deserves special mention. This palace is the perfect instance of the imperial age of the Rajputs and their grandeur. Initially it was set up as a pleasure spot and was the favorite hangout of the royal families. This was particularly used for the purpose of duck shooting parties.

The intricate architecture is the hallmark of these monuments. They offer wonderful views of their scenic surroundings. Most of the Jaipur Monuments are built in white marble or sandstone and they stand sparkling in the desert sun, beckoning the tourist with their grandeur and opulence. A Tour to Jaipur takes you on an enthralling journey that features these stunning Jaipur Monuments.

One of the other important monuments in Jaipur that truly deserves attention is the Hawa Mahal. This magnificent multi layered building was built by Maharaja Sawai Jai Singh II. This palace is also popular for its interplay of red and pink sand stone, meticulously and painstakingly bordered with motifs. This is one of the best Monuments in Jaipur that catches the eyes of even the disinterested tourists. Another monument that is famous amongst the tourists is Jantar Mantar. This particular monument was designed by the astronomer-king Sawai Jai Singh II in the year 1716 A.D. His Royal Highness Sawai Jai Singh II followed the movements of the sun, moon, planets, stars and the other heavenly bodies with avid interest and his knowledge reflects in the design of the monument.

All these monuments make for a great tour of Jaipur and are some of the best Tourist Attractions in Jaipur. There are many shops, entertainment hubs and accommodations that are located in the close proximity of these monuments.
---
Name of Monument
Telephone
Duration of Opening
ENTRY FEE
Camera Fee
Indian
Foreign
Child
Indian
Foreigner

Jantar Mantar

2610494
9.00 A.M. - 5.00 P.M.
20
100
20
Amber Fort
2530293
7.00 A.M.- 6.30 P.M.
25
150
25
Still-50
Video-100
Still-70
Video-150

Moti Doongari and Lakshmi Narayan Temple

2620969
6.00 A.M. - 9.00 P.M.
-
-
-
-
-
City Palace
2608055
9.30 A.M.- 5.00 P.M.
35
150
25
Still-50
Video-150
Still-50
Video-150
Observatory
2610494
9.30 A.M.- 4.30 P.M.
10
10
10
Still-20
Video-50
Still-50
Video-100
Albert Hall (Museum)
2570099
9.30 A.M.- 4.30 P.M.
10
50
5
Not Allow
Not Allow
Hawa Mahal (Museum)
2618862
9.00 A.M.- 4.30 P.M.
10
50
Still-10
Video-20
Still-30
Video-70
Jaigarh Fort
2671848
9.00 A.M.- 5.00 P.M.
25
75
Still-50
Video-100
Still-50
Video-100
Nahargarh Fort

5148044

9.30 A.M.- 4.30 P.M.
10
50
10
30
Ram Niwas Bagh & Zoo
2617319
8.30 A.M. - 5.30 P.M.
10
100
Dolls Museum
2619359
9.30 A.M. - 4.30 P.M.
2
Sisodia Rani Garden
2680494
8.00 A.M. - 6.00 P.M.
10
Vidyadhar Garden
2680494
9.30 A.M. - 4.30 P.M.
5
Anokhi Museum of Hand Printing
2530226
10.30 A.M. - 5.00 P.M.

Recreation Centers

Jawahar Kala Kendra
2706560
10.00 A.M. - 5.00 P.M.
Free
Free
Free
Still-50
Still-50
Birla Planetarium
2382267
Show-11 A.M.
1,3,5,7,8 P.M. (Hindi)
6 P.M.- English
20
20
20
20

Birla Auditorium and Convention Centre

2385224
Fun Kingdom
(Amusement Park)
2398001-2-3
11.00 A.M.- 7.00 P.M.
90
90
75
Pink-Pearl
(Water Park)
5141120
12.00 Noon-8.00 P.M.
125
125
80
Revolving Restaurant
2366683-4-5
12.00 Noon-3.30 P.M. ( Lunch)
7.00 P.M.- 11.00 P.M. (Dinner)
250
250